Welcome to www.victoriankenilworth.co.uk
the website of
Robin D Leach and
Rookfield Publications
This website was originally set up to promote my fourth, and first self-published, book "Victorian Kenilworth and its People"; its expansion continues with further articles and items of historical interest. It is now relaunched in its third format, special thanks to Sam Leach who has made this possible.
Available at Kenilworth Books
REDUCED PRICES ON ALL BOOKS
Rails to Kenilworth and Milverton; now £7
Kenilworth's Engineering Age; now £3.50
Most recent Publications:
The final part of the 'People and Places' trilogy featuring the history of the tannery and fellmongers.
Full details on its own page in the book list, see the link, left
A free 4-page supplement to Kenilworth People and Places Volume 3 about the tannery is now available and is inlcuded in all new sales; for those that have already bought a copy the supplement is available by contacting the author via the email address below.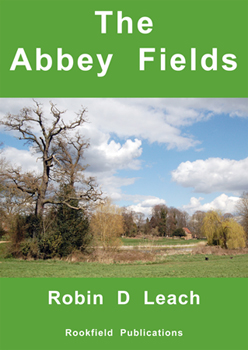 "An authoritative work, the standard book about the Abbey Fields for many years to come". (Norman Stevens, co-author The Story of the Abbey of St Mary)
Previous Publications
'A Portrait of Kenilworth in Street-Names' (2016)
A fully revised third edition in conjunction with its original author Dr Geoff Hilton. See the 'Book List' menu for further details
'Kenilworth People and Places, Volume 2' (2013)
Amongst the subjects included is the history of the first 25 years of Kenilworth's Carnival, (see the links to five carnival articles in the 'Local History Articles' menu).
All my books (see menu)

are available through this website
and at 'Kenilworth Books' in Talisman Square.
Further details can be found on the book's own pages.
Still under development on this website...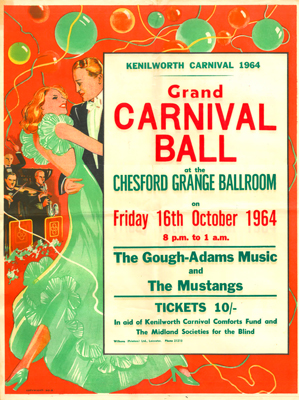 ...are new pages devoted to some recently acquired Carnival memorabilia including this stunning 2ft high poster from 1964
Presentations
I am regularly invited by local societies and groups to give presentations on various aspects of Kenilworth's history. These are not just slide shows but illustrated talks using old as well as new photographs, maps and documents.
Details can be found on the 'Presentations' page on the 'Main Menu'
Local History articles
With its own menu are some of the 60 or so articles that I have researched, written for, and had published in, the Kenilworth Weekly News.
One aspect of Kenilworth's history, the years of World War 2, is deserving of wider coverage and so I have created its own website.
Contributions to this are of course welcome.
Latest additions to this website
Home page (12th May 2021)
New article added, The Common (23rd April 2020)
New information about road names added to: A Portrait of Kenilworth in Street-names (28th February 2020)
Two arrticles added to Further Reading (28th February 2020)
Two new pages added: Abbey Fields Timeline, and The Covenants (28th August 2018)
New article added: How the land was acquired (13th August 2018)
New page added: The History of the Outdoor Pool (9th August 2018)
New additions to my 'Presentations' page (25th April 2018)
The Great War Project; final walk date added (17th April 2018)
Presentations page updated with new dates (17th April 2018)
Home page updated (4th April 2018)
New page added, Kenilworth People and Places, Volume 3 (4th April 2018)
New page added, Carnival Event Tickets 1962 - 1967 (1st April 2018)
Three new pages added, Carnival Posters, Prgrammes and Queens, 1947 -1975 (31st march 2018)
I have a simple philosophy in that the history of Kenilworth belongs to us all, not just to the historians, and so an application to use information, or photographs, from this website or from my books is certain to be received favourably, but the courtesy of 'asking first' is requested, as is the recording of the source upon re-publication.
Unless stated, all photographs on this website are taken by myself, with the exception of some of those shown on book covers.
Please contact me at
Rookfieldpublications@victoriankenilworth.co.uk
Details