Iconic Station Photograph Investigated
(published KWN 20th May 2011)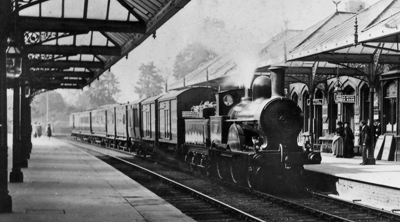 This photograph has perhaps become the iconic view of a past era in Kenilworth's history. With railways in the news practically on a weekly basis over the last 18 months, it is a reminder of what the town once had and now, in all likelihood, will never have again.*
It was found by the late Joyce Powell over 25 years ago whilst sorting some of her father's possessions and it was published as a postcard by the Kenilworth History & Archaeology Society. The photographer is unknown.
The caption reads, "Newton Class Locomotive in Kenilworth station, pre-1914", but is it possible to discover more and in particular, date it accurately?
My investigations began after finding it reproduced on the "Warwickshire Railways" website with a caption claiming the photograph was actually much older and was from 1884-5. I knew this to be incorrect (there is an advert for the Abbey Hotel in the picture, it was not so-named until 1887) and it led to a series of correspondence between myself, the website author Mike Musson, and several members of the London & North Western Railway Society. Expert knowledge from them, of locomotive details and the make-up of the train behind it, now provides revealing insights.
Firstly the locomotive, the number of which is unfortunately illegible. It is in fact a member of the Improved Precedent class (nicknamed 'Jumbos'), introduced between 1887 and 1897, the tender coal rails and circular smokebox door being major clues. An important dating tool is the barely visible central lamp bracket on the buffer beam, these were not added to LNWR locos until 1903 and so the photograph certainly post-dates that year. Its full tender of coal suggests it has not come far but has some distance to go. An engine of this class, Hardwicke, is preserved as part of the National Collection.
The train gives the appearance of a mixed passenger & freight, but the two lamps on the buffer beam show it to be an 'express passenger'. The vans behind the loco are not 'goods vehicles' but actually classed as 'non passenger coaching stock'. The first two are thought to be private owner trucks of the type used by Coventry's car manufacturers; the third is a covered combination truck; the fourth and fifth are horseboxes. These are followed by two passenger carriages and finally the brake carriage.
It is an unusual make-up to be a scheduled express passenger train, there being little accommodation for passengers, and so it appears to be a 'special', a private charter of some sort.
In my vast collection of notes, I have a description of a train, "two saloons, two horseboxes and three vans for luggage"; add the necessary addition of the brake coach and it describes the train in the photograph. That train was taking Captain James Stringer from his home in Kenilworth to Scotland, and going with him were his horses and entire staff. Stringer was a one-time equal partner with George Singer, the man behind 'Singer Cars' (indeed, Singer married Stringers sister) and this could possibly explain the inclusion of the first two vans for cars as described above.
Although it would be foolish to state with certainty that this is a photograph of that specific train, there is nothing yet to suggest that it cannot be. The Kenilworth Advertiser described Stringer's departure as "Thursday last" in its edition of Saturday 20th May 1905, thus possibly dating the photograph as either Thursday, 11th or 18th, May 1905.
* This was published at a time when the proposed new station looked about to fall through.