Kenilworth People & Places, Volume 1 (2011)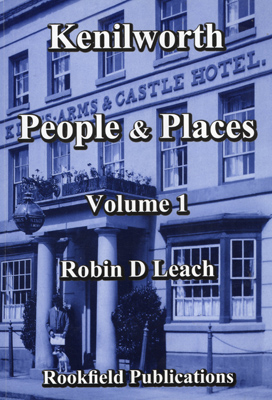 150 pages, plus 5 index pages. Page size 24cm by 17cm
£9.95
Kenilworth people and Places, Volume 1 records the complete history of many of Kenilworth's notable landmarks, including both cinemas, The Kings Arms, The Globe Hotel and clock tower, and houses such as Kenilworth Hall, The Firs, Crackley Hall, Chesford Grange, etc.
Within each chapter are the life stories of the occupants and their contribution to Kenilworth life. 'The Globe Hotel' chapter includes a fresh look at the land mine explosion in 1940; the clock tower history also records the lives of its benefactor and architect.
The full story of Kenilworth's largely unknown bicycle pioneer is told in a Kenilworth book for the first time, as is the early days of the Scouting and Guides movement.
Other chapters record Harry Eykyn and his garage, Kenilworth's first pilots, the influence of the Bourne family, the long-lost once-flourishing chemical industry, and Rouncil Towers - that became the country's first Motel.
There are over 125 illustrations, drawing on archives from noted local collectors, records offices, libraries, and the local newspapers, as well as my own archives and original photographs dating back some 30 years.
"Within the broad themes of people and places the author's in-depth and wide-ranging research has produced a rich variety of subjects, from public houses to private residences, from football, the Ping-Pong Club, Boy Scouts and Girl Guides, and cinema-going to the town's chemical industry, early aviators with a Kenilworth connection and a local pioneer of the bicycle who pre-dated James Starley. One theme that emerges very strongly is the attraction of Kenilworth for entrepeneurs, including ironmasters, engineers, an architect, a silk-dyer and a draper, from Coventry, Birmingham and further afield, in particular the Black Country. There are fascinating descriptions of the properties in Kenilworth they acquired, built or extended, with map extracts, photographs and descriptions, which indicate the stabling and outbuildings, conservatories and garden arrangemnets supporting their life-style."
The above review is taken from Kenilworth History 2012, the annual publication of the Kenilworth History and Arcaeology Society.