Kenilworth People and Places Volume 2 (2013)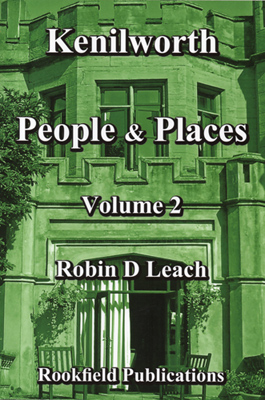 160 pages, over 160 illustrations and maps. £9.95
Amongst the subjects is the history of the first 25 years of Kenilworth's Carnival, and house histories of
'Elmdene', 'The Hermitage', 'Woodlands', 'Woodside' and the Cay family, 'Thornby House', 'The Poplars', 'Wilton House' and 'Thickthorn'.
Other subjects covered are
Various aspects of pre- WW2 housing in Kenilworth, the Old Folks Club, Kenilworth Boys College, the Library, Kenilworth's water system and the conversion to houses of the water tower and reservoir, artists and photographers associated with the town before WW1, Kenilworth's mystery & thriller writers, the day two future kings were entertained by a farmer's wife, and many life stories of individuals.
"Once again, Kenilworth and the wider world are greatly indebted to Robin for assiduous research and skilled, readable presentation of his findings. There are many human stories, of high and low, some moving some tragic, some surprising, and much elucidation of the complicated growth and change (and in some cases disappearance) of buildings and estates. Through its inhabitants, Kenilworth's links to the worlds of industry and the visual and literary arts are explored, as well as its (inevitable) links with nearby towns and villages."
(From 'Kenilworth History 2014', the publication of the Kenilworth History and Archaeology Society)